Nevis View
14 Farrow Drive Corpach
Tel: 01397772447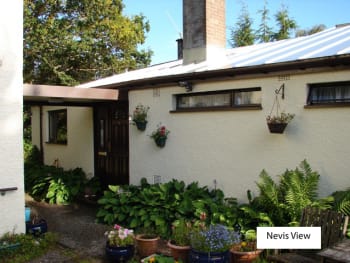 Nevis View is an unusual, architect designed house which lies within a small estate of 24 houses, just off the 'Road to the Isles' in the village of Corpach, 4.5 miles by road from Fort William. It provides a good base for exploring the local area, whether in one's own car, using public transport or on foot. There are views of Ben Nevis and of the surrounding mountains and hills from the house and also of Loch Linnhe. Guests are welcome to make use of the large garden. Nevis View has a compact Family Room which can accommodate up to three people in a Double Bed and a Single Bed. Alternatively, the room can be let as a Double or a Twin. The Single Room lies next door. The facilities are shared. Each bedroom has Wifi, a colour t.v., a DAB clock / radio and a kettle with which to make tea or coffee. Children and pets are welcome but the latter require to have their own bedding on which to sleep, or a charge will be made! Maximum of 2 dogs and regretfully no larger than a Collie in size.
Facilities
Vegan meals
Children Welcome
Drying Facilities
Early Breakfast By Arrangement
Evening Meal By Arrangement
Garden For Residents' Use
Internet Access
Packed Lunch By Arrangement
Policies
Check In: Between 16:00 and 20:00
Check Out: Between 8:00 and 10:00
Wi-fi: Wireless internet is available and is free of charge.
Smoking: There is no smoking permitted anywhere within the property.
Parking: Parking for all guests is available on site and is free of charge.


Children: Children of all ages are welcome.
Pets: Pets are allowed and can stay free of charge.
Groups: Groups are accepted up to a maximum of 5 people. No stag and hen groups.
Average
4.2
out of 5
69 reviews
87% recommend
Reviews
16th September 2018:

Would Recommend: Yes
11th September 2018:

It was such a pleasure to arrive at a lovely, cosy and immaculately clean place. The host was welcoming and wonderful. We felt as if everything was waiting only and especially for us. The views from the house were lovely.
Would Recommend: Yes
Owner Response:
Thank you very much for your lovely Review. We are so glad you enjoyed your stay here at 'Nevis View'.
18th August 2018:

Lovely small room with a great view. Dog friendly and no charge good breakfast friendly host left a top in my room owners took the trouble to find my car and left it for me
Tips:
Glen Finnan, sands at Morar cable car to Anoech Mor
Would Recommend: Yes
Owner Response:
Thank you for your review. It was no trouble to return the top to you, especially since you had, in conversation, said where you would be heading when you left 'Nevis View'!
15th August 2018:

Would Recommend: No
Owner Response:
Thank you for your review. I am surprised to learn that you would not recommend our property to other travellers and am left wondering why. Your unsolicited comment left in our Visitors'Book says 'Thank you very much for all and for advice too!' This would imply that your stay here was a very positive experience and is contrary to your comment about not recommending us to other travellers.
4th August 2018:

Would Recommend: Yes
27th July 2018:

You should know, that the Nevis-View ist a private B&B in the house of the hosts. You share the entrance and corridor, brakfast is served in the living room. The rooms are 50s style and a bit to full of things. If you like this style, I would recommand it.
Tips:
Corpach is about 5km from Fort William. Its a little village, wich is nice situated on the Caledonia Canal. There is a Coop Supermarket (open till 11pmp), but no Pubs to diner. I would recommand to walk to "The Lochy" (about 2,5km each way) in the next village (Banavie), which also is a beautiful promenade.
Would Recommend: Yes
Owner Response:
Thank you for your surprising Review! Our B & B is also our home and yes, we have plenty of possessions, but everything has its place and is kept there, neatly and tidily. We let two Bedrooms for B & B and so everyone, whether family or guest, shares the entrance and the corridor in order to be able to access the various rooms within the house. I don't know of any B & B or Guest House that doesn't share the entrance and corridor with the owner and their family if they live on the premises. The house was not built until the middle 1960s so the rooms cannot be, and are not, in the style of the 1950s! We don't live in the past and none of the rooms reflect the past - they are all freshly decorated and are in keeping with the present era. We have one large Dining cum Sitting Room and any meal is served to guests seated at the table in the Dining Room, NOT the Sitting Room! I had hoped for a 5 for Service and Staff considering you were collected from Fort William on the evening of your stay, AND, when I realised you had miscalculated the timing of the early morning train by some 30 minutes, woke you in sufficient time for you to have Breakfast served at 06.30 (a full hour earlier than I normally start) and still have time to catch the train, which you would otherwise have missed!!
13th July 2018:

Would Recommend: Yes
11th July 2018:

would not go back
Would Recommend: No
Owner Response:
To say this Review of your recent stay at 'Nevis View' is very disappointing is putting it mildly, especially as the unsolicited comment in the Visitors Book that you wrote said "Great"! Quite a contradiction!! Location I can do nothing about, but you booked the property a full month before your actual stay and presumably knew where Corpach was, otherwise you would have chosen somewhere else that suited you better. A '3' for Cleanliness is also disappointing, seeing as all areas throughout the property are thoroughly cleaned everyday. A '1' for Facilities is outrageous, considering everything that is provided to all our guests as a matter of course! We would not have been awarded a grading of 3 Stars by Visit Scotland if the facilities were poor, which they certainly are NOT! A '1' for Service / Staff is shocking, especially since my husband and I went out of our way to help you in every way we could during your stay. All in all, a very disappointing Review from a guest we actually enjoyed having to stay!
5th July 2018:

Need to be out of room by 10 a.m. every single day was inconvenient & difficult.
Tips:
Would suggest the following are worth seeing: Banavie swing bridges and Neptune's staircase; n Steall (although path is slightly dangerous) and Inchree waterfalls.
Would Recommend: No
Owner Response:
I'm sorry that you felt that the Service provided to you during your stay of two weeks was average, especially since you were provided with everything for which you did not have to ask and then again, for everything for which you did ask, including being woken up at 09.00 every day for Breakfast! You were often back extremely late at night and fresh milk was always provided to you, no matter the hour, so you could have your cups of tea in your room. It is usual for B & B s to have a time in which the owners can clean and tidy, prepare the rooms for the next guests, go shopping for what is needed in the B & B and to have a short period of down time. Appointments that are needed are made specifically during this period. Guests being asked to vacate their room from 10.00 until 16.00 everyday is not out of the ordinary. If it really is a necessity for you to stay in for as long as you want until you are ready to begin your day, then I would suggest you stay at a Hotel, where this should be less of a problem.
4th July 2018:

nice place not far away from Fort William
Tips:
Picknick (Tables available) at the Caledonian Canal Lock - overlooking Loch Linney - highly recommendable!
Would Recommend: Yes
2nd July 2018:

Did the job.
Tips:
Climbing Ben Nevis is hard going!
Would Recommend: Yes
Owner Response:
Well, I would have expected a higher rating than 3 for Service / Staff, considering that for the two days you stayed, I got up much earlier than I normally do, in order to serve you Breakfast well BEFORE the usual time that Breakfast is offered!! Disappointing that going the extra mile to help you out, wasn't acknowledged in your scoring!!
22nd June 2018:

Would Recommend: Yes
21st June 2018:

made very welcome. lovely breakfast.friendly host
Would Recommend: Yes
12th June 2018:

Would Recommend: Yes
Owner Response:
Location - yours was a last minute booking and so the location might not have been what you would have chosen if you had a number of places to chose from. Unfortunately, I cannot do anything about the location, BUT the house looks onto Ben Nevis (hence the name), onto the mountains and lochs and towards Fort William. Most guests think the views to be had are fantastic and so the location can't be that bad! I'm glad you thought the cleanliness was good but am disappointed that you only gave a 3 for facilities. You have to remember we are a Three Star B&B and so the facilities are not going to be as extensive as places which have been awarded a higher grading than mine. I provide hairdryers in the rooms, Dressing Gowns for my guests to wear to and from the shared facilities, tea / coffee making facilities, clock / radio and colour t.v. together with very comfortable beds and furnishings to a high standard! Being awarded a 2 for Service / Staff is very disappointing. I don't understand this rating as the Staff never changes and the Service I provide to my guests is always of the same high standard and I'm frequently complimented on my hosting. Strange that the guests providing the following two Reviews after yours both rated Service / Staff as 5. Despite the overall rating of 3 which you gave me, I'm glad to see that you would recommend 'Nevis View' to other travellers!
10th June 2018:

Would Recommend: Yes
5th June 2018:

small rooms, very nice hosts
Tips:
very nice walk along the canal in Corpach, beautifull view
Would Recommend: Yes
Owner Response:
We were very disappointed to read the Review you left after your stay at 'Nevis View' last week. Despite your very low overall score for 'Nevis View', you said you would recommend our property to other travellers, which seems a bit of a contradiction, but for which we are very grateful! The location we can do nothing about, but when you booked the accommodation in early March, there must have been plenty of properties from which to choose and despite the location being clearly stated, you chose to stay here, so the location must have been acceptable to you then. The unsolicited comment you left in our Visitor's Book mentioned the "stunning views" which can only be because of our location! A score of 1 for cleanliness is extremely disappointing, especially since each bedroom, the Shower Room and the rest of the house was thoroughly cleaned everyday. The majority of our visitors actually comment on how clean the property is, so it is a pity you did not raise the issues you seem to have had whilst you were here, so they could have been addressed. We don't actually understand your rating, as the cleaning done during your stay, was exactly the same as when others have stayed, leading to the complimentary comments. Last year when 'Nevis View' was inspected by Visit Scotland, we were awarded Three Stars. The Inspector actually complimented us on the facilities we offer, so we're not sure what additional facilities you were expecting to have provided. Four and Five Star properties, by virtue of the number of stars, have more facilities, so in future, you should maybe look for properties with a higher grading than we have. Your comment "very nice hosts" doesn't tally with your score of two for Service / Staff. Again, unsolicited comments in the Visitor's Book completely contradict your verdict and we don't know what more could have been done to improve your scoring as you were treated no differently to anyone other of our guests.
18th May 2018:

Would Recommend: Yes
13th May 2018:

Nice place to stay, not so far by car from the city Fort William. The owner was good and understandable regarding our demands. The room was enjoyable. The breakfast is included and it is a plus!
Tips:
Not referenced on booking.com, you've to search by another local website.
Would Recommend: Yes
11th May 2018:

We were happy to stay with Barbara, but found the room a bit cramped. The doors on the wardrobes all opened the wrong to make getting things in and out easier.
Tips:
Neptune's Staircase and the Morrings Restaurant were great.
Would Recommend: Yes
9th April 2018:

Stayed the one night as on a course nearby - incredibly friendly and helpful and a delicious breakfast. Would recommend!
Would Recommend: Yes
2nd April 2018:

Great location, fab sized rooms for two adults and a toddler.
Tips:
Great views of Nevis, very convenient location for Fort William, Ben Nevis or travelling further up to the Highlands as we did!
Would Recommend: Yes
2nd April 2018:

A great B&B for a bargain price. Bearing in mind this is the same price as the SYHA or any other hostel, you shouldn't be going expecting 5* luxury and en suites. If you're after a warm, hospitable host, cosy room, cooked breakfast, don't mind sharing a bathroom and don't want to pay some of the more premium rates in Fort William/Corpach then the Nevis View is genuinely perfect. I stayed in the single room, which had ample space to spread out my climbing gear and heavy bags, the cooked breakfast was really good, I was offered as much coffee as I could drink and Barbara couldn't have been more hospitable and genuine. For £35 a night you can't go wrong.
Tips:
They don't take card payment, but there is a conveniently located cash point at the co-op
Would Recommend: Yes
5th November 2017:

Very good location for what i wanted to do and a perfect example of a B&B. If you Opt in to have the evening meal you wount be disappointed.
Tips:
Very close to the station for trips out.
Would Recommend: Yes
14th September 2017:

Would Recommend: Yes
14th September 2017:

Would Recommend: Yes
8th September 2017:

Warm and friendly welcome. Excellent breakfast and really comfy bed
Would Recommend: Yes
23rd August 2017:

Would Recommend: Yes
Owner Response:
Thank you for your Review. It was good to have you stay.
22nd August 2017:

romm extra small, we couldn't even keep the lagguage inside. Bad smell, the share bathroom extra small.
Would Recommend: No
Owner Response:
I am sorry you did not enjoy your stay. When I cleaned the room that day, it did not smell when I left it ready for your stay. Admittedly the bedroom is small but it meets the Visit Scotland guidelines for accommodating three people. Likewise the Shower Room is also small but it is perfectly adequate for being used by one person at a time. Location I can nothing about, facilities are more than good. Besides having heating and lighting, the room has a colour t.v, a clock/radio and tea and coffee making facilities. I think perhaps your expectations exceed what a Two Star B & B has to offer and you should look to stay at a Guest House or Hotel in future. Lastly, I expected to be given a better rating than 3 for Service/Staff, especially since I'd been honest and pointed out your Booking had been for three adults, not two adults and a child, which meant you were expecting to pay £14.00 more than was due. I naturally asked you for the correct payment and did not charge you for leaving a day earlier than had been booked, which I was quite entitled to do.
6th August 2017:

very small room
Would Recommend: No
Owner Response:
Thank you for your review. I am sorry that having stayed here, you do not feel able to recommend Nevis View to others. Thankfully, the vast majority of our guests do not share your opinion.
3rd August 2017:

Would Recommend: Yes
1st August 2017:

Très bonne accueil. Nous avons passé une nuit très calme dans une petite chambre confortable. Le petit déjeuner etait copieux et bon.
Would Recommend: Yes
19th July 2017:

The facilities were quite restrictive. We were restricted to the bedroom only, except for breakfast where we were allowed to sit at the dining table. There were no places to sit, lounge or otherwise relax in the building. For £56, I would have a imagined a more comfortable stay. Also the house is filled with a lot of stuff. While I did not bother me entirely, there was lacking a vibe of a bed and breakfast. That's all there was: A bed and a breakfast. Also, I did not feel entirely welcome by our host. Our presence seemed like an inconvenience to her. Questions about accommodation (e.g. Sitting outside to enjoy the view described on the website) were met with a jeer and a passive hesitation. It seemed to me the host wanted us in and out as quickly as possible.
Would Recommend: No
Owner Response:
Nevis View is a Two Star Bed & Breakfast and is our home. You have to expect that being a family home, we have our personal belongings throughout the house but these are not just left lying about - everything is stowed neatly and tidily. We offer Bed & Breakfast pure and simple. We do not masquerade as offering anything but. If you want somewhere to stay that offers more facilities than Nevis View does, then I suggest you look for a Guest House or Hotel and be prepared to pay considerably more than the very reasonable rate you paid for your room. You arrived just after 8 o'clock at night and I was very surprised by your request for outside seating given the time of day, the weather and that midges were likely to be out! You were also very short of time in which to travel to a restaurant and order, as most places in this area stop serving food at 9 o'clock. I admit that I expressed considerable surprise because of the above reasons, but did not 'jeer' at your request and did offer you some seating, which you then declined. You went out and came back quite late and went straight to your room, where you had a perfectly comfortable sofa on which to sit. So to say you had nowhere to 'sit and lounge', is simply not true. Breakfast is normally served between 07.30 and 09.00. Because you were climbing the Ben that morning, I offered to serve you Breakfast much earlier than normal, as you had planned to go without this meal because of your early departure, an offer that you took up. Breakfast is always served at the Dining Room Table. To say you were 'allowed' to sit at the table is a travesty. All our guests are shown in to the Dining Room, as were you, and are invited to sit at the table where Breakfast is then served. Your welcome was no less than the welcome extended to all our guests. Your presence was NOT an 'inconvenience' and we did not want you 'in and out as quickly as possible'. You read the unsolicited comments in our Visitors' Book left by the guests who had already stayed this year and these completely back up what I have said about the welcome that is extended to everyone and contradict what you have said in this Review. :(
14th July 2017:

Would Recommend: Yes
11th July 2017:

Would Recommend: Yes
24th June 2017:

Very pleasant stay at Nevis View, thank you !
Would Recommend: Yes
Owner Response:
Thank you very much for your Review. Unfortunately, the location is not something we can do anything about!
30th May 2017:

Would Recommend: Yes
19th April 2017:

Beautiful house in a magic location. Barbara is the perfect host, absolutely friendly and available for any suggestions or help you will need. The house is clean and warm, absolutely recommended!
Tips:
Better to have a car to reach all the destinations because the house is in an area not in the town center, very close by car but I guess walking would be maybe 20 min or more. For foreigner travelers, it's good practice to know that usually the restaurants close the kitchen at 9pm, so be advised if you are organizing your dinner! Enjoy your stay, it's worth every penny!
Would Recommend: Yes
15th April 2017:

lovely warm, clean and comfortable home from home
Would Recommend: Yes
27th September 2016:

We were very happy with our stay. Everything was as expected. Very accommodating and kind host.
Tips:
The Nevis View is a very good place to stay. Great value for money, very accommodating and kind host, provided plenty of information and tips about the area. There is a supermarket close by. Access and location good with a car, might be tricky without one.
Would Recommend: Yes
Owner Response:
Thank you for your Review. It was nice to have you stay and we're glad you enjoyed your visit to the Fort William area. P.S. There is a regular bus & train service to and from Corpach, so a car isn't absolutely necessary in order to get to 'Nevis View'. We also offer, by prior arrangement, to collect guests from Fort William town centre or from the station in Corpach.
16th August 2016:

A warm and friendly welcome, a clean comfortable room, a lovely quiet location and a lovely breakfast. Couldn't ask for more.
Tips:
Highly recommended.
Would Recommend: Yes
13th August 2016:

Very accomodating due to adverse weather preventing us getting to you at a decent time. We are hoping to redo the steam train as we missed out the return leg, so will definitely be in contact with you.
Would Recommend: Yes
13th August 2016:

Nowhere to sit except in the cramped room, and house is a bit of a mess. Room was clean and good breakfast.
Tips:
Go for a walk to the canal and locks nearby - very pleasant.
Would Recommend: Yes
Owner Response:
Thank you for your Review aspects of which I disagree with. 1) The house is NOT a mess! Yes, we have a lot of things, but everything is kept neat and tidy and is stored in an organised fashion. 2) The room you stayed in is small, but is not cramped, otherwise it would not pass Visit Scotland's Grading for a Two Star B & B. The room has a Double Bed & a Single Bed, which when not required (as when you stayed), is set up as a sofa, which is plenty big enough for two people to sit on! 3) The location I can do nothing about, but to say it is "Below Average" cannot be further from the truth! You yourself recommended a pleasant walk to the nearby canal & locks which would not be possible if the location was different.
12th August 2016:

Stayed for one night was working in the area. Beautiful area, great views from the room.
Would Recommend: Yes
29th July 2016:

Very friendly and welcoming, great service alround
Tips:
Ben and Glen Nevis, Inverlochy Castle, distillery
Would Recommend: Yes
28th June 2016:

lovely place to stay with stunning views.
Would Recommend: Yes
23rd April 2016:

A pretty, secluded spot in a residential setting close to, but not in centre of, Fort William.
Tips:
A very pleasant area, good for exploration for so many places in the West Highlands. Drives to places such as Eileen Donan Castle and Glenfinnan, etc are not that far away. A pleasant drive along the west side of Caledonain Canal on B road towards Gairlochy is worth it if only for unobstructed views to Ben Nevis.
Would Recommend: Yes
7th April 2016:

Would Recommend: No
Owner Response:
Your review is very disappointing. I can do nothing about the location but would have thought that as you were walking The Great Glen Way, it was an ideal location for beginning that walk. The facilities are NOT below average for a Two Star B&B. The Visit Scotland inspector thought that what is offered at 'Nevis View' is above average for a property obtaining two stars. As your bus from Glasgow arrived at 21.00, I offered to collect you from the Bus Station in Fort William, which you gratefully accepted. On the way to Nevis View, I pointed out various important way points for your walk and even took you down to the Canal Basin, so that in the morning you would know where you would need to go to begin walking The Great Glen Way. When you booked, you asked for an evening meal, but as you were arriving so late at night this was not possible. Instead, I offered you homemade soup and rolls which were served at 21.45 and which you said were very good. Breakfasts are normally served from 07.30 but you asked if you could have Breakfast at 06.45 which I happily complied with as you had a long walk that day. I feel your review is very unfair, especially since I went out of my way to help you and to accommodate your requests.
29th March 2016:

Would Recommend: Yes
30th September 2015:

internet was not working at all
Would Recommend: Yes
Owner Response:
I regret that the normal internet connection that guests use was not working during your stay, but there was an alternative (BTWifi) that was working, through which the internet could have been accessed. The problem was temporary and has now been sorted.
12th September 2015:

Would Recommend: Yes
27th August 2015:

Even after agreeing to check in later (5pm) we were still treated with a cold attitude There is little to no view on 'Nevis' and the 'family size room' was a shoebox. I am sorry to sound so blunt however it was disappointing and the price of the room was ridiculous.
Tips:
The Steam Train (Jacobite) journey was our highlight.
Would Recommend: No
Owner Response:
I'm sorry to learn that you did not enjoy your stay at 'Nevis View'. Unfortunately, I can do nothing about the location of the property, but if the weather is good and cloud is not obscuring the scenery (weather can never be guaranteed), there is an excellent view of Ben Nevis from the room you stayed in. The room is small, but is not a "shoebox" and the daily B & B rate per adult, is very reasonable - NOT "ridiculous" as you state. 'Nevis View' was recently assessed by 'Visit Scotland' and received an extremely good report, indicating the property to be well above the standards expected for a Two Star B & B in almost all respects. Regarding your check-in, I contacted you in advance to ask that you put back your planned arrival by one hour to 17.00, as I had a medical appointment in Inverness that afternoon. This was agreed, but unfortunately the volume of traffic between Inverness and Fort William made for a much longer journey than was anticipated and was exacerbated by my being caught out by the opening of three road bridges over the Caledonian Canal to allow boat traffic through - each opening adding at least 15 minutes apiece to the journey! As a consequence, I was not home by the agreed time, for which I apologised when you eventually checked-in much later that evening after your evening meal! I dispute that you were treated coldly at any time during your stay, as this is simply not my way and the numerous unsolicited comments written in the Visitor's Book, bear testimony to the friendliness and helpfulness extended towards all who stay with us! My husband even brought in your washing that had been hung on our washing line to avoid it getting drenched by the rain that started whilst you were on the Steam Train, which was acknowledged in the comment you subsequently wrote in the Visitor's Book!
20th August 2015:

Extremely pleasant very quiet area and immaculately clean. Made to feel most welcome. Excellent value for money, and a wee bonus near amenities and train station
Tips:
I only stayed overnight but I went BenNevus. Glen Nevis Range and a boat cruise.
Would Recommend: Yes
11th August 2015:

Would Recommend: Yes
6th August 2015:

Would Recommend: Yes
22nd July 2015:

perfect service.
Tips:
Very near to Neptune's staircase. Nice location, very quiet area. Nice friendly pub one or two miles away (ask the nice lady at Nevis View B&B).
Would Recommend: Yes
27th June 2015:

Felt like i was at home. It was so warming and friendly Richard and Barbera are awesome nothing is to hard and the brekkie is fantastic
Would Recommend: Yes
20th June 2015:

Would Recommend: Yes
31st May 2015:

Very nice relaxing accommodation with an astonishing view at the loch and the mountains, a little bit outside, but close to the end of the Caledonian canal. Really nice hostess + great breakfast for a good value. To watch the singing birds in the lovely garden is just great for everyone who enjoys nature.
Tips:
Just have a tour through the Treasure of the Earth exhibition if you like crystals, metals and fossils just 2 mins from the B&B. A walk alongside the loch is also massively enjoyable in good weather. After around 1h walk through Caol you can reach Inverlochy castle and visit the distillery nearby. If you love to explore the surroundings by bike, the Caledonian canal might be the right choice for you. Using a bike would also get you fast from Corpach through Caol and Inverlochy to Fort William. High recommendation: West Highland Museum in the Fort William town centre!
Would Recommend: Yes
6th October 2014:

Would Recommend: Yes
24th August 2014:

Clean,comfortable,friendly and homely.
Tips:
Try the Glen Nevis Restaurant. Wonderful location, excellent service and great,good value menu with generous portions.
Would Recommend: Yes
16th August 2014:

for three of us in the same room, it felt very claustrophobic. but essential we staying in someone's spare bedroom. the food we had was very good.
Tips:
we did a road trip, this is great as stopover between lochness and glencoe.
Would Recommend: No
8th August 2014:

Would Recommend: Yes
6th August 2014:

Would Recommend: Yes
3rd August 2014:

The booking went smoothly.
Tips:
Host (Barbara) really helped us with planning - above and beyond what we expected. We ended up driving the 17 miles to Glenfinnan Viaduct and watching the steam train go across. Fabulous!
Would Recommend: Yes
26th July 2014:

I was only there the one night , so very short visit , but very friendly and made welcome and room was ideal .
Would Recommend: Yes
25th July 2014:

Would Recommend: Yes
20th July 2014:

Had a most enjoyable relaxing stay here with my young son. Lovely quiet peaceful location and the room was nice. Although it did not have an en suite the facilities were close to hand and very clean. The hospitality was really good and we were given great advise on places to visit and things to do. Advice was always at hand. Lots to choose from at breakfast and a lovely view from the breakfast table. I would definitely stay again.
Tips:
There is a mining / gemstone /Fossil museum (Treasures of the Earth) just at the bottom of the hill from this B & B in Corpach. It was very interesting and my son loved it. Worth a visit.
Would Recommend: Yes
27th May 2014:

Lovely stay all in all. Although room a bit crowded with to many furniture.
Would Recommend: Yes
23rd April 2014:

We had a very pleasant stay.
Tips:
Dog-walkers will enjoy the walk at the end of the Caledonian canal, 5 minutes away.
Would Recommend: Yes
.